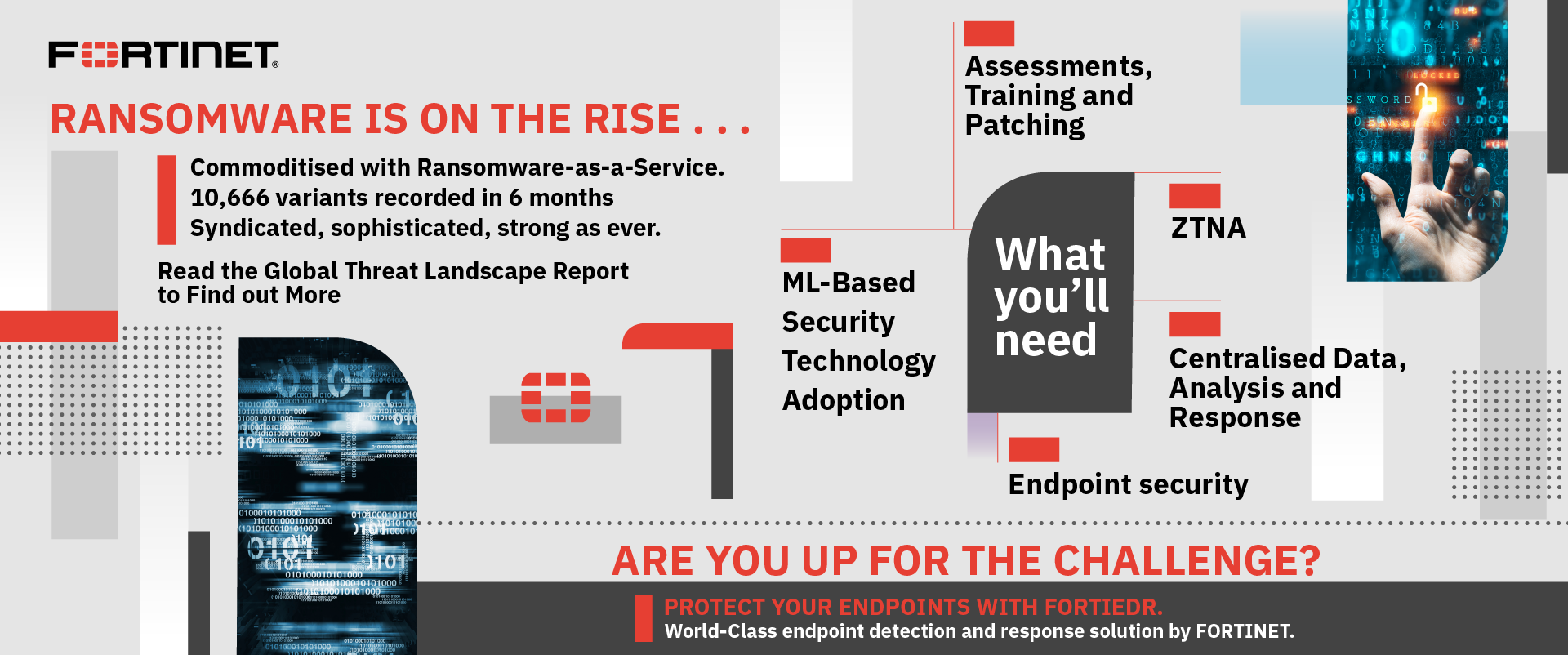 Find Out More >>
The "Global Threat Landscape Report" by Fortinet's FortiGuard Labs talks about ransomware in detail and gives a comprehensive assessment of the major threats organisations worldwide need to keep an eye on.
Download the full report HERE.
Assessments, Training and Patching
Fortinet's FortiRecon can do external surface threat assessments, detect and remediate security issues and help you obtain insights on current and imminent threats. Fortinet's NSE Institute Training, meanwhile, explores cybersecurity in great detail covering everything from the basics all the way to expert knowledge and all of Fortinet's solutions.
Endpoint Security
In mitigating ransomware attacks, advanced endpoint security, which leverages modern approaches built on intelligence and behavioural analysis, plays a crucial role in enhancing your organisation's prevention, detection and response capabilities.
Fortinet's suite of endpoint security technologies is encompassing, covering everything from vulnerability and patching to anti-exploit technologies. Go to the official FortiEDR page on the Fortinet website to find out more about this best-in-class cybersecurity solution
Endpoint-security
Centralised Data, Analysis and Response
Security is a big data problem and the capability to analyse data and catch that proverbial needle in the haystack is critical in detecting the most advanced attacks, including ransomware.
ZTNA
Zero-Trust Network Access helps minimise breaches by controlling access more granularly to application devices and networks.
ML-Based Security Technology Adoption
Machine-Learning (ML) and Artificial Intelligence (AI) enable security teams to better detect and capture the rapid changes in the threat landscape and help organisations triage and prioritise security incidents. Fortinet has been enhancing its ML and AI where applicable, including at endpoints, on the cloud and in network-based solutions.
Protect your endpoint with FortiEDR
Combating the growing sophistication of ransomware requires businesses to take a full lifecycle approach of preparation, prevention, detection, and response, starting with the endpoints.
Check out this fact sheet showing the capabilities that an EDR must have—the same features that FortiEDR offers.
FortiEDR