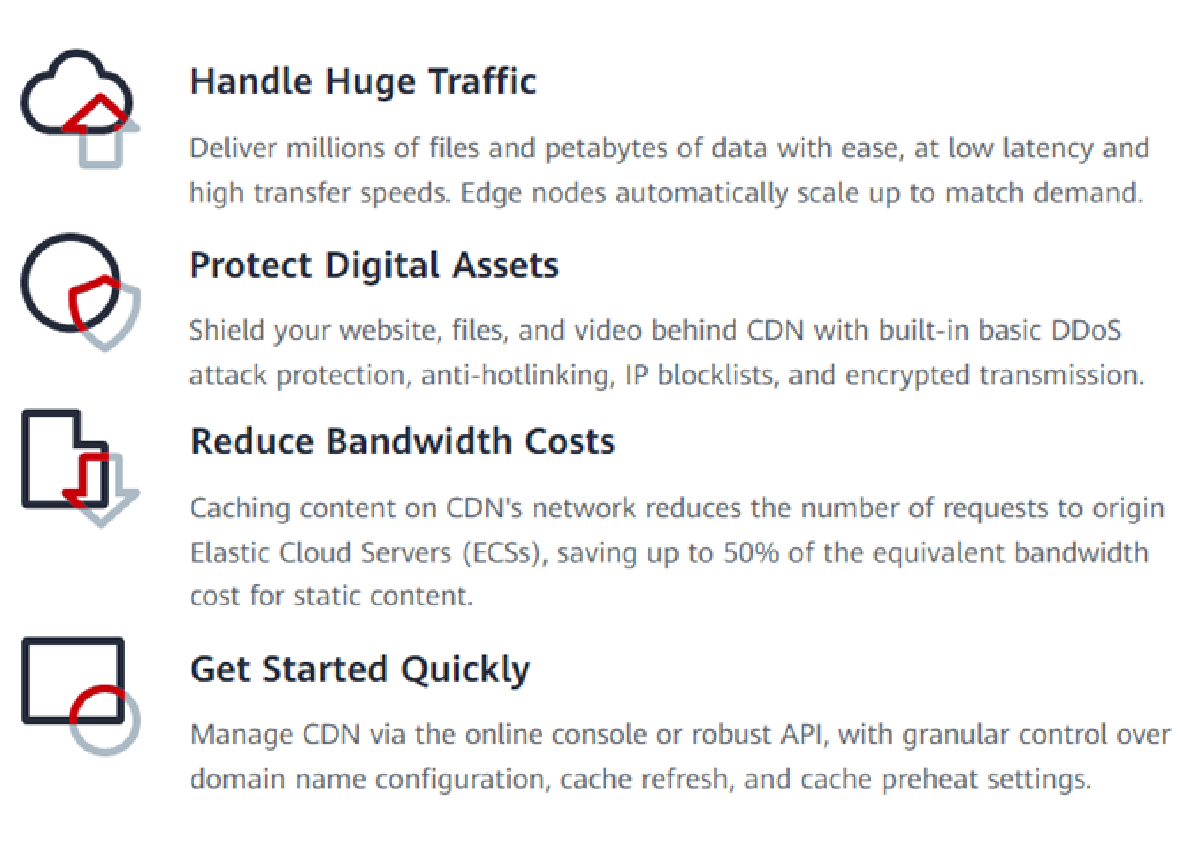 A content delivery network (CDN) is a distributed network of servers to provide faster content delivery.
Bring content as close to your users as possible. Huawei Cloud CDN can help you:
Huawei Cloud CDN has over 2000 edge nodes in the Chinese mainland and over 800 edge nodes globally. With a network-wide bandwidth that reaches 150 Tbit/s, it covers more than 130 countries and various regions, connecting to over 1,600 carrier networks.
Huawei Cloud CDN is better able to manage delivery quality to geographically diverse users while shielding them from malicious attacks.
Watch this video to find out more:
In the APJ region, Huawei Cloud CDN Points of Presence (PoPs) provide excellent quality and full coverage. This includes in Japan, India, Indonesia, Thailand, Philippines, Singapore, Malaysian, Hong Kong, Vietnam, Bangladesh, Macao, Cambodia, and Laos and further establishments planned in Korea, Sri Lanka, Myanmar and Nepal. The new PoPs in APJ will enable end users to benefit from low latency — making content seamless and more engaging.
Huawei Cloud CDN will introduce numerous new features in 2023:
• Configuring IP address with port numbers for referral validation
a. Use Cases – Allowing or blocking access to a port of host with multiple functions.
b. Benefits – You can configure referrer validation in a more refined and flexible manner.
• Specifying URL Authentication Scope
a. Use case – Performing authentication only for certain types of files (for example, JPG files)
b. Benefits – You can specify whether to authenticate requests of accessing files with specific extension names.
i. The authentication scope can be quantified and verified.
ii. Your origin server resources are more secure.
• Changing the Service Type (Flexibility)
a. Use case – Assume that your business of a domain name has changed from download services to on-demand services, you can change the service type of the domain name to meet business requirements.
b. Benefits – You can change the service type to meet business requirements using a different bottom-layer acceleration platform.
• You can change the service type in one click. In earlier versions, if you want to use the same domain name for your new business, you must remove the domain name, add it to CDN again, and select a new service type for it.
• You can save time and communication costs.