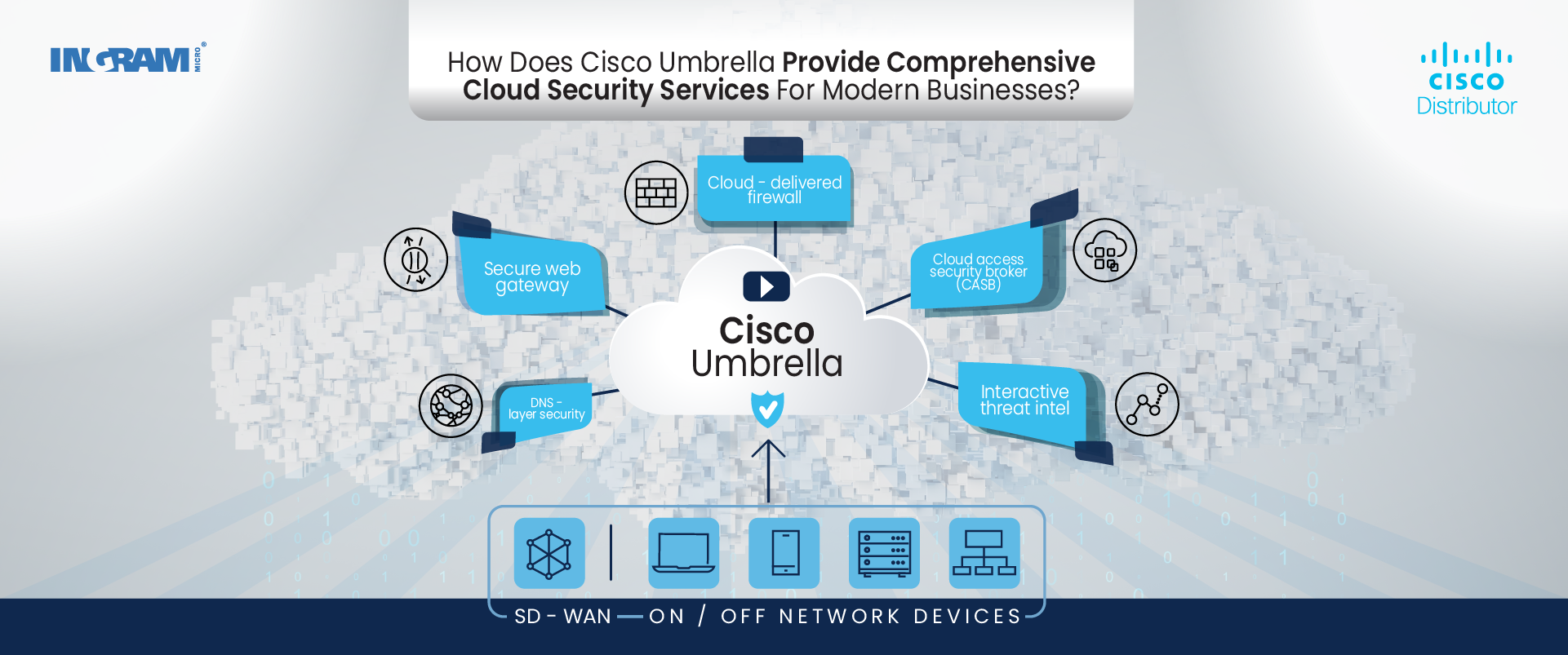 Cisco Umbrella
CISCO UMBRELLA is a cloud security platform by Cisco that provides an organisation with comprehensive protection against a variety of internet threats, whether within the network or off it.
It can serve as the organisation's first line of defence against threats on the internet.
DNS – Layer Security
Umbrella's industry DNS-layer security stop threats at the point of attack by proactively identifying potentially dangerous connections and blocking them immediately before they are even established.
It is the quickest, most effective way to improve your security stack.
Secure Web Gateway
Umbrella's secure web gateway is a cloud-native full proxy capability that protects your users from web-based threats by efficiently logging, inspecting, and controlling web traffic.
It ensures complete visibility of all web traffic and features anti-virus and advanced malware protection, sandboxing, decryption and granular app activity controls—all in one easy-to-use interface.
Cloud – Delivered Firewall
Umbrella's cloud-delivered firewall gives you the benefit of having the firewall—but deployed from the cloud. This provides visibility and control for outbound internet traffic across all ports and protocols, helps improve security efficacy, and ensures consistent enforcement everywhere.
It secures users, devices and remote locations in a time when SaaS use is proliferating and remote work is rising.
Cloud Access Security Broker (CASB)
A Cloud Access Security Broker (CASB) is the "middleman" between cloud providers and cloud consumers—in this case, the organisation using the cloud for whatever purpose—that enforces the latter's security policies for cloud application access and usage.
Umbrella's market-leading CASB enables better policy level decision making, prevents malware spread and detonation, minimises application data exposure and exfiltration and reduces data loss risks.
Interactive Threat Intel
Cisco boasts Talos, one of the largest commercial threat intelligence teams in the world, and Umbrella relies on it for best-in-class threat intelligence.
This enables real-time threat analysis that "learns" internet activity patterns to automatically identify "cyber fingerprints"—or the infrastructure, malware, and web or email delivery scheme that attackers use to stage an attack.
By identifying these schemes, Umbrella can then recognise existing attacks and pinpoint threats as they are being staged.
Umbrella SD-WAN
Umbrella's software-defined WAN is a cloud-first, Cisco vManage-controlled architecture that enables an organisation to securely connect users to their applications.
It provides a software overlay that spans the entire standard network transport, including MPLS, broadband and internet, to deliver applications and services. This helps accelerate the organisation's cloud migration—safely and securely.