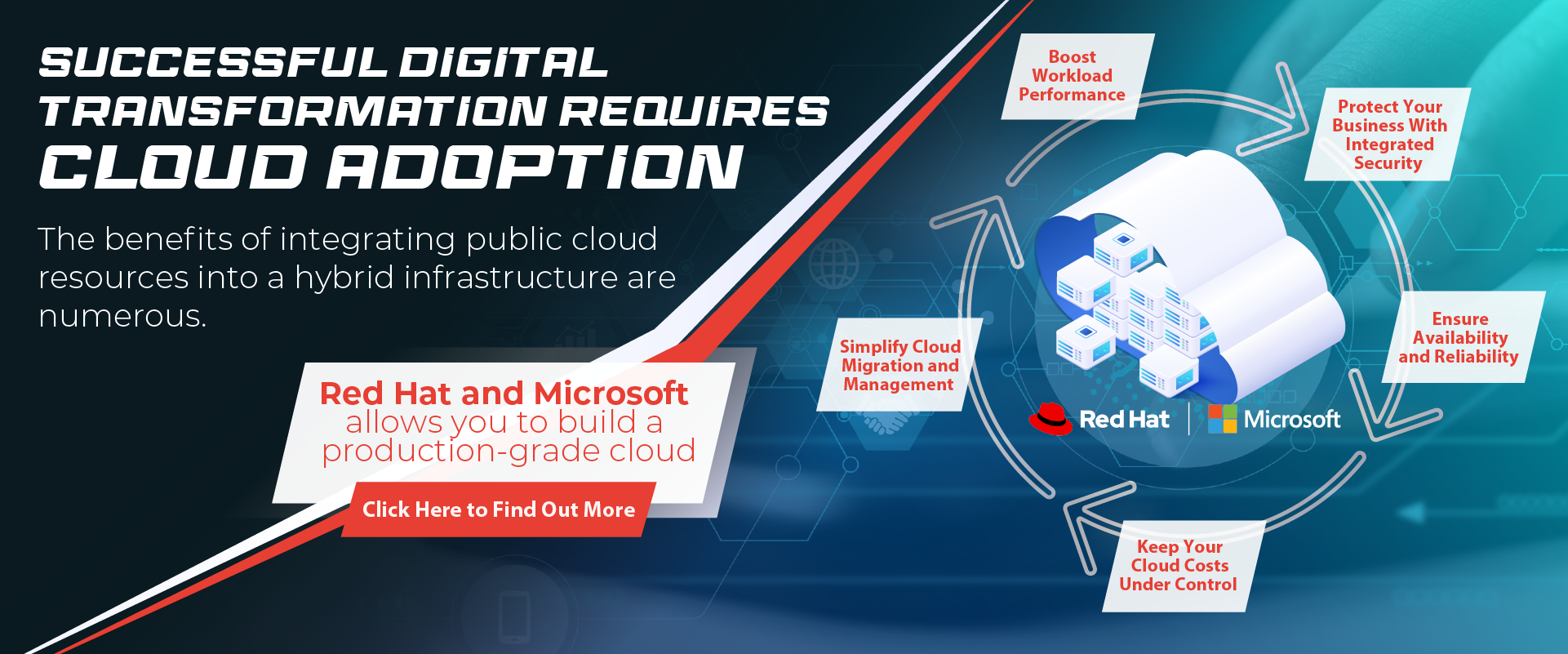 Simplify Cloud Migration and Management
Red Hat Enterprise Linux (RHEL) delivers a stable, high-performance platform for running cloud-based workloads, while Microsoft Azure, one of the biggest global cloud providers, provides a comprehensive set of cloud services for building, deploying, and managing the most demanding applications.
Together, they form a production-ready public cloud foundation, enabling you to:
• Quickly launch applications without deploying and configuring additional hardware.
• Support new infrastructure technologies with your current IT staff.
• Seamlessly integrate on-prem and cloud-native workloads.
• Gain control over every aspect of your public cloud infrastructure.
Boost Workload Performance
Red Hat and Microsoft are on a mission to deliver increased performance for critical applications. Over the years, Red Hat Enterprise Linux has consistently met stringent performance requirements across bare-metal, virtual, cloud, and container environments.
Meanwhile, Microsoft Azure offers a wide selection of compute services and resources for running all kinds of workloads—from High-Performance Computing (HPC) and batch processing to Artificial Intelligence (AI) and visualisation.
Protect Your Business With Integrated Security
Red Hat and Microsoft use their extensive experience to build advanced security features into RHEL and Microsoft Azure. This helps organisations to reduce risk, maintain a security-focused operating environment, and better protect their data. To further illustrate, RHEL:
• Provides layered security technologies and certifications, with the ongoing support of the Red Hat Product Security team.
• Comes with integrated security features—including centralised identity and credential management and Security- Enhanced Linux (SELinux) mandatory access controls.
• Includes OpenSCAP, a NIST certified set of specifications for maintaining enterprise system security.
Ensure Availability and Reliability
Red Hat and Microsoft ensure availability and reliability for critical applications to keep your business running at all times. RHEL undergoes extensive stress testing and quality assurance, delivering a hardened and predictable foundation with greater than 99.99% uptime for essential workloads.
Similarly, Microsoft Azure guarantees availability and reliability with SLAs of up to 99.99% through availability zones—fault-isolated locations with redundant power, cooling, and networking.
Keep Your Cloud Costs Under Control
Red Hat and Microsoft help you understand and manage your cloud spending while maximising the value of your existing investments using a variety of tools and programs. For example:
• The Red Hat Cloud Access program lets you use your Red Hat subscriptions across your entire IT environment.
• Microsoft Azure's advanced monitoring tools collect cloud use and billing data, giving you complete visibility into resource consumption and costs.
• Role-Based Access Control (RBAC) allows your teams to access data and insights and manage their own spending.
Want More? Click Here
Watch this video to learn how Red Hat and Microsoft can provide an ideal public cloud foundation to support your modern IT needs.